Our Story
Jack and Amelie were born 8 days apart. As friends, with new babies and on maternity leave, we shared the experience of becoming Mums together. At 6 months, Jack and Amelie were introduced to the world of food. Their weaning journeys were baby-led, using pieces of vegetables, fruit and meat to explore from the start, supplemented with shop bought pouches when we were out and about.
We both noticed that around 10 months old, as their appetites increased and food became more than just fun, they weren't so keen on the wet, soft-textured first foods that were available. While we were at home (and with just the 1 child to take care of!) we were able to make interesting and varied meal choices, but when they turned one and we both returned to work this became harder. We were surprised at the lack of good quality prepared foods available, that reflected the way we like to feed our children – and that would've been really helpful as our lives became busier.
It's important to note that as families, we enjoy a broad range of fresh, home-cooked meals. We are not suggesting that ready meals should be an everyday choice. As families with two working parents, however, we are definitely realists. Scratch cooking, every day is a real stretch for most busy parents. And so, we try our hardest to do the very best we can for our children. We batch cook, and freeze leftovers to help during the week. We cook fishfingers, but add lots of vegetables on the side to balance the compromise. What we really needed was a go-to brand, that felt like it understood us, and how we wanted our children to eat and so our Jack and Amelie adventure began.
Soph & Abi
Soph
My happy place is in the kitchen. My husband used to laugh at me when, at the end of a stressful day at work, I would come home and get started on dinner without even taking my coat off!
I was lucky enough to grow up on a farm, enjoying home-grown and home-cooked food, with a Mum who instinctively avoided processed foods. There were plenty of treats, but balance was important, and I definitely try and do the same for my family.
Jack struggled with reflux and eczema, and was dairy, egg and tomato intolerant until around 18 months. By removing these foods completely from his diet, he became a happier baby and his eczema was almost eliminated. Slowly, we re-introduced the foods, and by giving him that break, his system was able to process them without ill effect. We will always remember watching him eat his first proper ice cream – best day ever!
We had to think out of the box for Jack. I batch cooked mediterranean veg sauce (no tomatoes), baked vegan cakes, and learned to check labels for hidden ingredients. This made me very aware of what is in processed foods, and to search out cleaner ingredient labels where possible. When my second son, Finlay broke out in eczema at 3 days old, it didn't phase us. We knew exactly what to do!
Happily, all foods are accepted by both boys now. And that's exactly what we offer them. Plenty of colourful food, packed with good nutrients and whole foods. And treats – because we will always love watching them eat ice cream!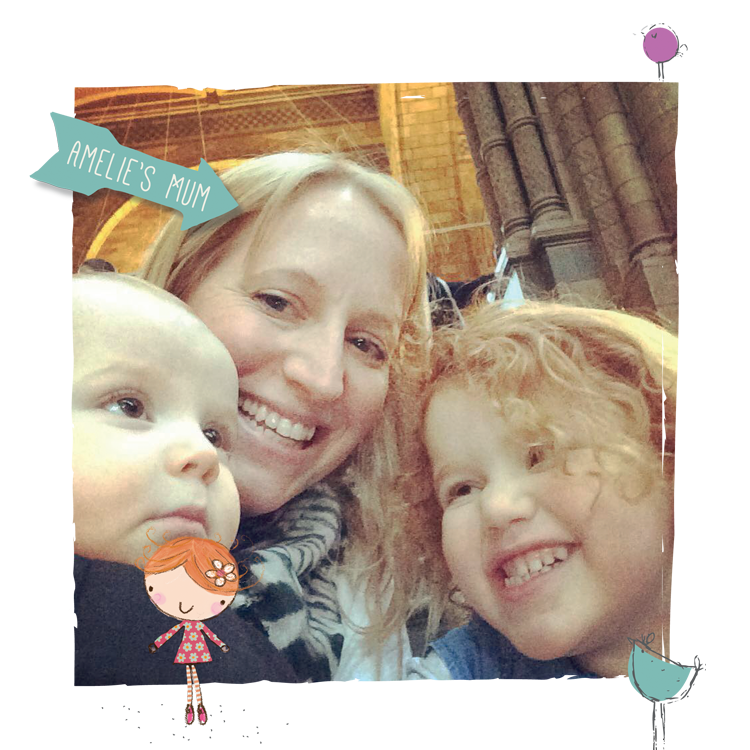 Abi
It was a conscious decision that I wanted my children to have a healthy relationship with food, not least because we liked going out to eat and wanted to still be able to do that! Knowing that our kids would eat what we ate was important to us.
Amelie was a dream child. She loved her food and loved her veggies so meal times were pretty stress free. She was always an adventurous eater and would try any food we gave her.
When her brother came along it wasn't so easy. He had a very small appetite and getting any food in him when he started weaning was a real battle, and at times very stressful. What we did learn though was that he loved flavoursome food – curry no problem!
It would have been very easy at those stressful times to feed him the same foods, but we recognised that we had to keep trying and thankfully he is now so much better – although a side of broccoli will still be swiftly rejected!
Like a lot of people now, I am more aware of the food I put in my body and am trying to be much more conscious about the foods we eat as a family. However I am also a realist and recognise it's a balance; our cupboards aren't free of treats and non processed foods and only organic and all natural. We are on a journey as a family to eat better most of the time so that when the kids want to go crazy at a party and high on haribo or brightly coloured slush puppies I know it's very much a treat and they are getting nutrients at key meal times.
This influenced the ethos for starting Jack and Amelie, we want to be able to offer parents a healthier alternative to home cooked meals on the days when its too hard to fit in. And to know that on days when time is at a premium the only option is not just a return to the same gap fillers as usual but to be able offer food that encourage more variety in our kids diets.